Budderside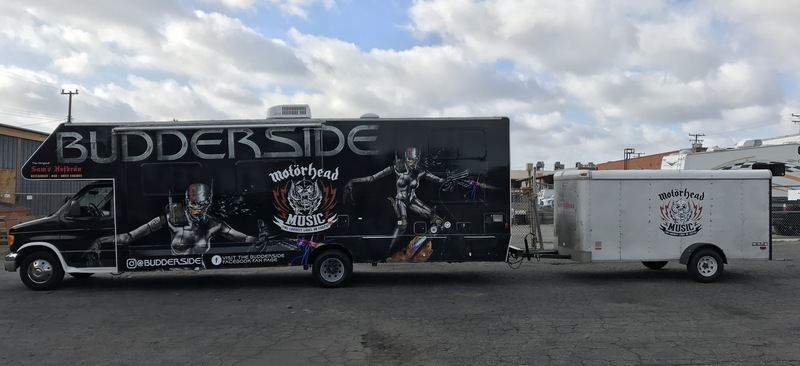 US tour together with LA GUNS
"Budderside, the electric, eclectic, itinerant SoCal rock´n´rollers will tour the US this summer with the legendary LA Guns!
The Tour kicked off in Phoenix, Az on June 12th. More dates being added, so check back here or follow Budderside on Instagram and Facebook for all the updates"
Dates below
06.12.17 Phoenix, AZ THE REBEL LOUNGE
06.15.17 HOUSTON, TX PROOF BAR
06.16.17 AUSTIN, TX TEXAS MIST
06.17.17 DALLAS, TX CURTAIN CLUB
06.18.17 HARRAH, OK THE STATE THEATER
06.22.17 FT. LAUDERDALE, FL CULTURE ROOM
06.23.17 BONITA SPRINGS, FL SANJAN THEATER
06.24.17 ST. PETERSBURG, FL STATE THEATRE
06.26.17 BUFORD, GA 37 MAIN
06.28.17 Memphis, TN ROCKHOUSE LIVE
06.29.17 LOUISVILLE, KY THE MERCURY BALLROOM
06.30.17 HAZARD, KY THE FORUM
07.01.17 DETROIT, MI HARPOS CONCERT HALL
07.03.17 SYRACUSE, NY SHARKEY´S SUMMER STAGE
07.05.17 HEATH, OH MUDDY CREEK SALOON
07.06.17 ST. CHARLES, IL ARCADA THEATRE
07.08.17 SAVANNA, IL POOPY´S PUB
07.23.17 COLORADO SPRINGS, CO THE BLACK SHEEP
07.28.17 WORCESTER, MA THE PALLADIUM (upstairs)
07.29.17 GARWOOD, NJ CROSSROADS
07.30.17 READING, PA THE REVERB
08.01.17 BUFFALO, NY BUFFALO IRON WORKS
08.02.17 NEW YORK, NY GRAMERCY THEATRE
08.05.17 WARRENDALE, PA JERGEL´S
08.06.17 BATTLE CREEK, MI THE MUSIC FACTORY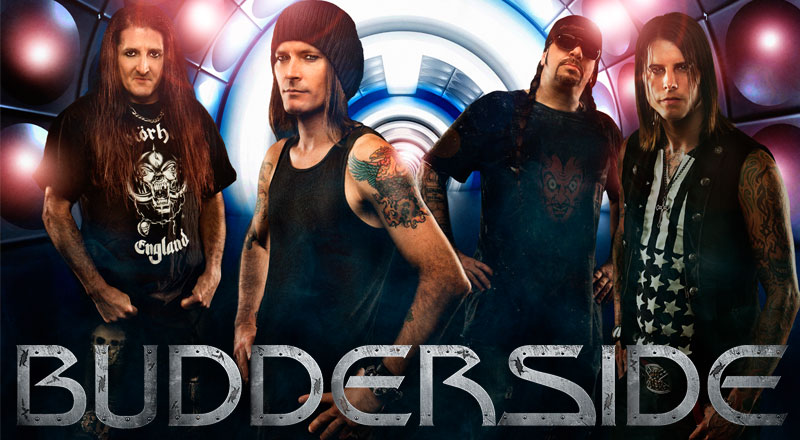 "We've survived hell to live a life to die for, and we're just getting started"


…Patrick Stone of Budderside
BUDDERSIDE - Release Date: 23th of September 2016
True Hard Modern High Energy rock 'n' roll with wings to other musical arenas… a sound where genuine raw power meets hypnotic harmonies, resulting in one of the most engaging, entertaining bands in the land: Budderside.
Doused in the (street) waters of Los Angeles, California, Budderside are fronted by Patrick Stone, who was with the likes of Quiet Riot, Velvet Revolver and Adler's Appetite before realizing the ultimate dream of his own band and singing his own songs to the world. Enter Michael "The Stoneman" Stone on bass, Rich Sacco on drums and Johnny Santoro, (Still Standing, Rock Sugar) on guitar to form a rock-solid band of brothers with instantly unbreakable bonds.
Budderside manager, Todd Singerman of Singerman Entertainment (Motörhead's management), ensured the band went into Rosewood Strat Studio with producer Paul Inder Kilmister (son of Motörhead's dearly-departed, legendary cultural icon, Lemmy). And the result is a searing-hot, self-titled debut album "BUDDERSIDE", which is due for release this summer and will be officially launched with the video for their first single "Pain".
BARB WIRE DOLLS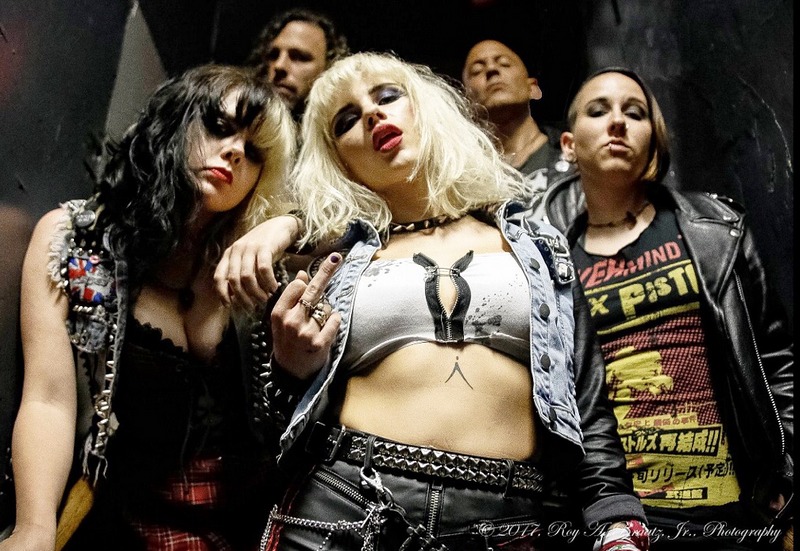 New album "Rub My Mind" available to pre-order now!
"Rub My Mind" the astonishing brand new album available now as CD, limited edition White Vinyl and in digital download format.
Pre-order the album now on:
BARB WIRE DOLLS
ANNOUNCE UK/EUROPEAN HEADLINE TOUR IN MAY/JUNE AND FIRST SINGLE
"BACK IN THE U.S.S.A."
"Barb Wire Dolls are punk rock all the way to the bone!" - Vice
Following up on a very successful 2016, Barb Wire Dolls are set to release their brand new album "Rub My Mind" on June 16th 2017, via Motörhead Music. The band is also pleased to announce their headline UK/European tour, which will kick off in May 2017.
"Back in the U.S.S.A.", the first single taken from the new album, is a two and half minute fiery social statement of satirical punk-rock heaven that well represents the true sentiment of the record.
"Rub My Mind" was recorded in the Joshua Tree desert at legendary studio Rancho De La Luna in California, where Iggy Pop and Queens Of The Stone Age made their seminal albums. Produced and mixed by Jay Baumgardner (Evanescene, John Fogerty, Bush), "Rub My Mind" is a collection of thirteen eclectic tracks that reflects on the state of our world, how to deal with it - and how to escape it! "Rub My Mind" builds on the energetic platform of their last two releases - "Slit" (2013) and "Desperate" (2016) - delivering an album that confidently grabs your immediate attention. "Rub My Mind" soundscape blends the melodic rage of lead guitarist and former pro surfer and skateboarder Pyn Doll, the crunchy rhythm guitar of Remmington, the pulsating bass of Iriel Blaque, the Bonham-esque power of Krash Doll on drums; all led by Isis Queen's dynamic vocals and flamboyant presence. Dedicated to legend Lemmy, the album is an exciting retro cocktail of late '70s influenced punk and '90s grunge refracted through the prism of 2017.
Hailing from an artist commune on the island of Crete, Barb Wire Dolls, sold everything they owned and left crisis-ridden Greece in 2010 for Los Angeles, at the invite of legendary KROQ DJ Rodney Bingenheimer. The band's electrifying rock did not go unnoticed by the elder statesman of the Sunset Strip, the incomparable, irreplaceable Lemmy Kilmister of Motörhead. After seeing Barb Wire Dolls live, Lemmy took an immediate interest in the band and had them signed to the Motörhead Music record label.
Having played over eight hundred shows in twenty five countries, and with an extensive and diverse live support under their belt, including the likes of GBH, Status Quo, NOFX and Steel Panther, Barb Wire Dolls now hit the road on a full UK/European headline tour this May. The old continent show-run will be followed by 41 summer dates across America on the 2017 Vans Warped Tour.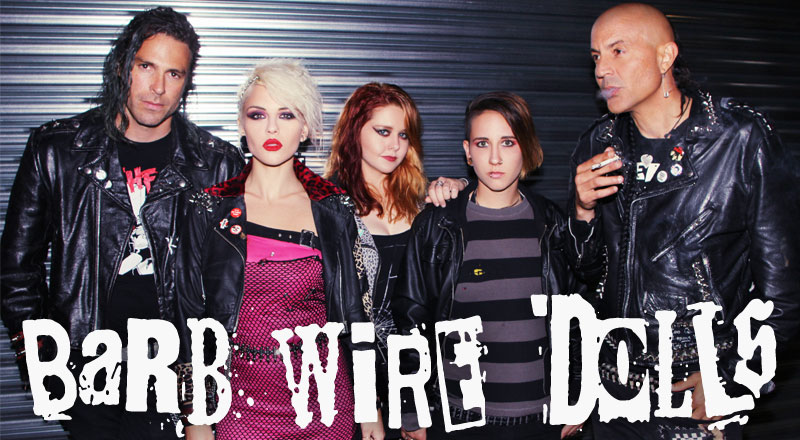 "Barb Wire Dolls are the most explosive and exciting new punk band I've seen in decades! They are gonna change the face of music and save rock and roll as we know it!"


- Mickey Leigh/brother of Joey Ramone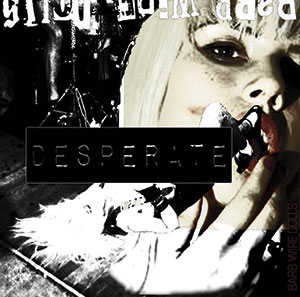 DESPERATE - Release Date: 22nd of July 2016
Barb Wire Dolls are one of the most vital new bands in music today, representing all that is inspiring and furious about rock and roll. Hailing from an artist commune on the island of Crete, the band sold everything they owned and left crisis-ridden Greece in 2010 for Los Angeles, at the invite of legendary KROQ DJ Rodney Bingenheimer. Upon their arrival in California, Barb Wire Dolls immediately sold out the world famous Roxy Theatre in Hollywood, boasting a live show that is second to none.
Electrifying rock of this magnitude did not go unnoticed by the elder statesman of the Sunset Strip, the incomparable, irreplaceable Lemmy Kilmister of Motörhead. After seeing Barb Wire Dolls live, Lemmy took an immediate interest in the band and placed them under his supportive wing. Disgusted with the current state of rock music and its lack of true rebels, Lemmy saw that the Dolls were the obvious choice to help carry the torch of rock and roll as part of his label, Motörhead Music.
Recorded at Sonic Ranch (Yeah Yeah Yeahs, Ministry, Gogol Bordello) and NRG (Motörhead, Foo Fighters, No Doubt) studios, Barb Wire Doll's sophomore album Desperate was produced and mixed by Grammy award-winning producer Jay Baumgardner (Bush, Evanescence, Lacuna Coil) and mastered by Grammy award-winning mastering engineer Howie Weinberg (Nirvana's Nevermind, Red Hot Chili Peppers' Blood Sugar Sex Magik, U2's Pop). The ten song album contains gripping rock tracks, empowering anthems, and hard-edged thrashers, all performed with the classic punk rock energy the band has become internationally known for.
Phil Campbell And The Bastard Sons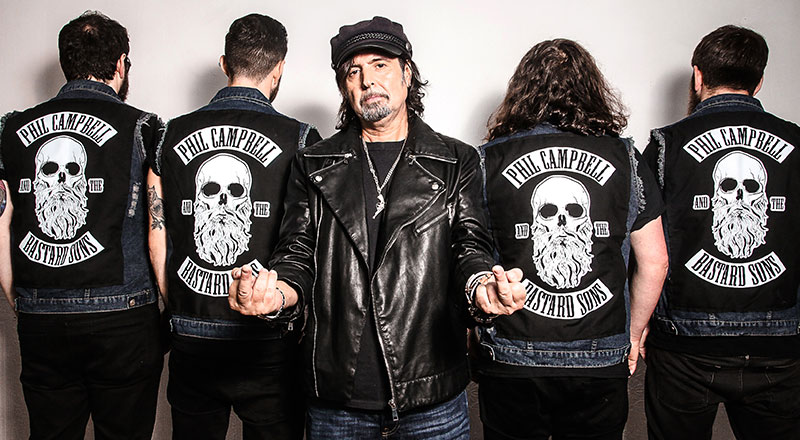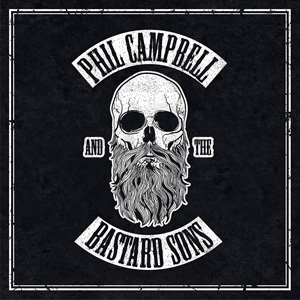 Phil Campbell And The Bastard Sons - Release Date: 18th of November 2016
Phil Campbell and the Bastard Sons are about to fly a mighty Welsh-born rock'n'roll flag in your direction!
The legendary Motörhead guitarist, Phil Campbell, has teamed up with his sons Todd, Dane and Tyla, plus vocalist Neil Starr, to record their debut self-titled 5-track EP, which will be released by UDR GmbH on November 18th.
Produced by Todd Campbell at their own Stompbox Studios in Wales, UK, and mixed by Motörhead's producer Cameron Webb, Phil Campbell and the Bastard Sons loudly shoves you head-first into its raw, gritty, classic and instantly-accessible rock'n'roll charms. Whether it's the speedy biker-charged refrain of "No Turning Back", the crunchy catchy jump of "Big Mouth" or the beautiful, yet bombastic, balladry of "Life In Space", Phil Campbell and the Bastard Sons brings uniquely organic life and verve to every last riff and stomp, with Starr's sensational vocals ensuring this EP will be the surprise of the 2016 rock'n'roll release calendar.
Others
"It's all about bringing the poetry and soul of blues, the aggression of punk and the rebellion of rock and roll together in a way that's fresh and relevant today."


Joe Colover OTHERS - 2016
Londoner Joe Colover came to LA in 2013 hoping to form a band that shared his vision of wild, unadulterated rock and roll. Keen to find like-minded musicians, Joe soon found himself watching Metallica tribute band Cliff 'Em All at the Viper Room, where guitarist John Hatfield instantly grabbed his attention with his phenomenal guitar technique and stage presence. When he and John finally jammed together something clicked, and they knew they were on the same page with what they wanted in a new band. Both had no place for gimmicks, but wanted to create something based on raw energy, honesty and feeling. It was about building on the original rock and roll which Joe and John both felt had gotten lost. Shortly after, bassist Jessie Sanchez came onboard, bringing bone-chilling technical ability and power to the band. While looking for a drummer to complete the line up, finally, the spiritual-yet-demonic Pat Martin (who'd previously performed with John) heard and liked the material, initially agreeing to help out the trio. They soon realized it was a perfect, permanent, mix, and OTHERS was born.
The four played their first gig at the famous Whisky-A-Go-Go on October 13th 2014, followed by regular appearances at venues in and around LA including The Rainbow and Viper Room, where the fledgling band paid their dues. In the summer of 2015 OTHERS were honored to be invited by Wendy Dio to play at the Ride for Ronnie Cancer Fund event, in memory of Ronnie James Dio. Their first overseas gig followed shortly after, with the band performing a lively set at Expo Rock Tijuana, Mexico. Things continued to gain momentum when OTHERS were booked to play Motörhead's Motörboat in September of that year, joining a line-up which included Anthrax, Slayer and of course the mighty Motörhead.